Yesterday was not my favorite day. It sucked to be honest. I needed to get the kids out of the house and I needed to shake off my bad attitude. So, we went to Target. It's kind of inappropriate how much we go there, but whatever, that store is amazing. We get a bag of $1.00 popcorn, maybe a Starbucks,walk around, read books, play in the toys, maybe pick up a few things, soak up the free air conditioning. As far as my kids are concerned, it's almost better than Disneyland.
We did our usual lap around the store, and ended in the toys. Shocker.
Now the rule is we look we don't buy. Cry, beg,scream,kick, doesn't matter I'm not buying another toy to pick up a hundred times a day.
I'm a mean mom I know. Anyways we played with the babies, pushed every button on every Fisher Price toy. We headed to the boy section and ba-ba-da-da..... We saw this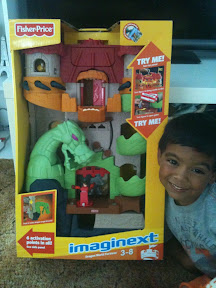 The dragon castle that Gavin wanted for his Birthday. Every time we see this he tells me how much he wanted it and how sad he was that he didn't get it. Well, mama and Daddy had a hard time shelling out $50, and it's a good thing because we bought it yesterday on clearance for $12.47!!!!! That right. I took one look at that little red clearance sticker and threw that bad boy in the back of my cart. I thought, no way it went from $49.99 to $12.47, but I'll take it. Even if it was a mistake, they were gonna have to sell it to me at that price anyways.
My son FREAKED OUT!
Mama we get to take that HOME???? Like to my room where I can play with it forever??
Who's a mean Mom now?
I was now on a mission to find more little red clearance stickers. We were on a mission. Gavin found walkie talkies for $3.24, originally $12.99. Sofia scored a 15 piece Olivia dress up set for $3.94 (o.p. $15.99) and and a Strawberry Shortcake doll for $3.94 (o.p. $15.00)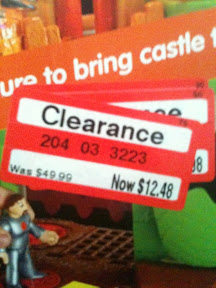 I got $94.00 worth of toys for $23.60!!!!!!!!!
My Grandma would be so proud.
And it was money well spent. My babes have been in their room playing nice since yesterday afternoon
Thanks Target!!!!
- Posted using BlogPress from my iPhone